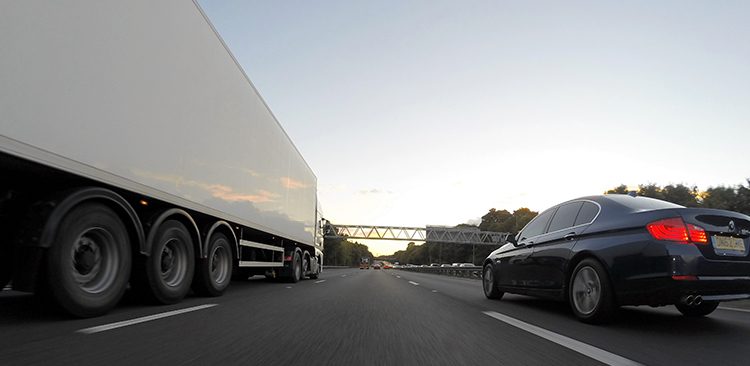 Trucking Accident
The trailer behind a tractor-trailer is called a "semi" but there's nothing semi about it. The average tractor-trailer can carry 80,000 lbs. of freight at one time, roughly 25 times that of a passenger car, and requires a 40% time increase to stop in comparison. Clearly, the sheer weight and size alone of the truck can cause significant injury and life altering changes when involved in a crash.
A trucking accident can be catastrophic, and your life can become unexpectedly altered from the moment of impact. You can often be left feeling shocked, concerned, unprepared, wounded, angered and/or a feeling of loss of control. After the collision, you may also be facing an array of painful and difficult obstacles and probably not fully aware of your rights.  It's completely normal to feel overwhelmed and the array of emotions and trauma you may have after a truck accident, but you don't have to feel powerless nor alone.
Tractor-trailers do not have the same regulations as passenger vehicles which often leads to trucking accidents being significantly more difficult to navigate as well as there are often more parties liable. With a "mission to prevent commercial motor vehicle-related fatalities and injuries," on January 1, 2000 the Federal Motor Carrier Safety Administration (FMCSA) was established. The FMCSA governs and implements guidelines and regulations to ensure safety of motor carrier operations. Blade Injury Law is an experienced personal injury firm who can offer guidance and representation to uphold these regulations as well as navigate this new road you're now facing. While we can't change what happened, we can change what happens next.
Know your rights. Call Blade and get paid the compensation you're entitled: 470.350.8200.
HOW WE'RE HERE TO HELP:
Free accident consultation & review of your accident
Explanation of the process
Filing of a claim
Specialized personal injury medical provider references
Financial aid options
Damage overview
YOU MAY BE ENTITLED FOR COMPENSATION FOR:
Pain and Suffering
Lost Past and Future Wages
Survivor Benefits
Rehabilitation
Medical Expenses